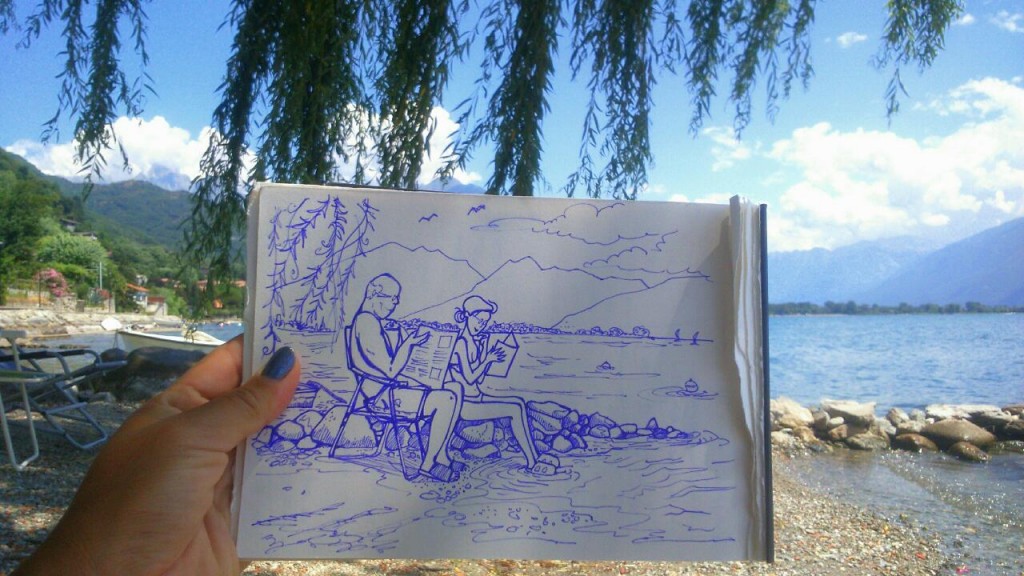 On the shores of Lake Como, under the shimmering light of summer, I spy them.
Returning from a kayak session across these deep waters, the bright yellow canoe approaches, sending gentle ripples back toward us.
My kids recognize them, too, and wave: "Ciao, Nonno! Ciao Nonna!"
The elderly couple paddle closer, waving back.
They are here every single day of summer, this aging pair. Sometimes with their yellow kayak; other times returning with their tiny, blue, battery-powered boat. Often, just bathing together in these healing waters. And she's always got a cute bikini on.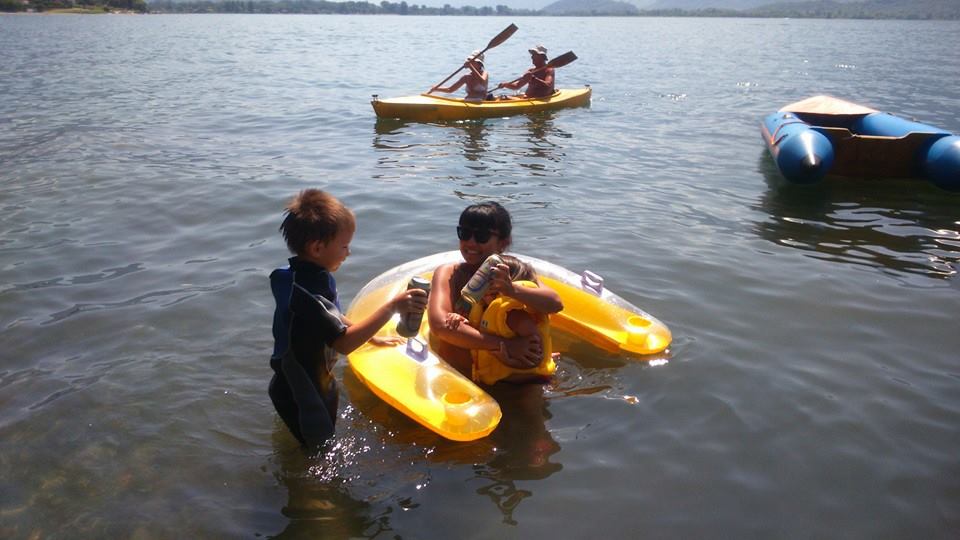 "Buongiorno!" the old man calls back to us.
"Ciao!" chimes his lovely wife. She wears white today. Every inch of her body is as it should be: graceful, aged, alive.
Emerging from the water, he takes her clear beach bag and hat, and hands her a towel to dry off. She turns around, letting him pat her back with the towel. Tiny details that signify a life of loving, tenderness and care.
The old man takes his wife by the hand and leads her to a shady spot under our willow tree. Then he stands a moment, hands on hips, facing towards the looming montagna in front of us. Just gazing.
He's taking in this moment fully—admiring the azzurro Alpine mountains that cast emerald reflections on the lake. I'm not sure exactly what thoughts he's thinking, but the light in his eyes tells me they are happy ones.
He turns to me and notices I am painting in my art journal.
"Do you paint a picture every day?" he asks.
"I try to paint three every day," I say, jokingly.
"Bellissimo!" he replies. The Italians I have met here seem enraptured every time they see an art piece–as if they aren't already surrounded by some of the most amazing artworks in the world.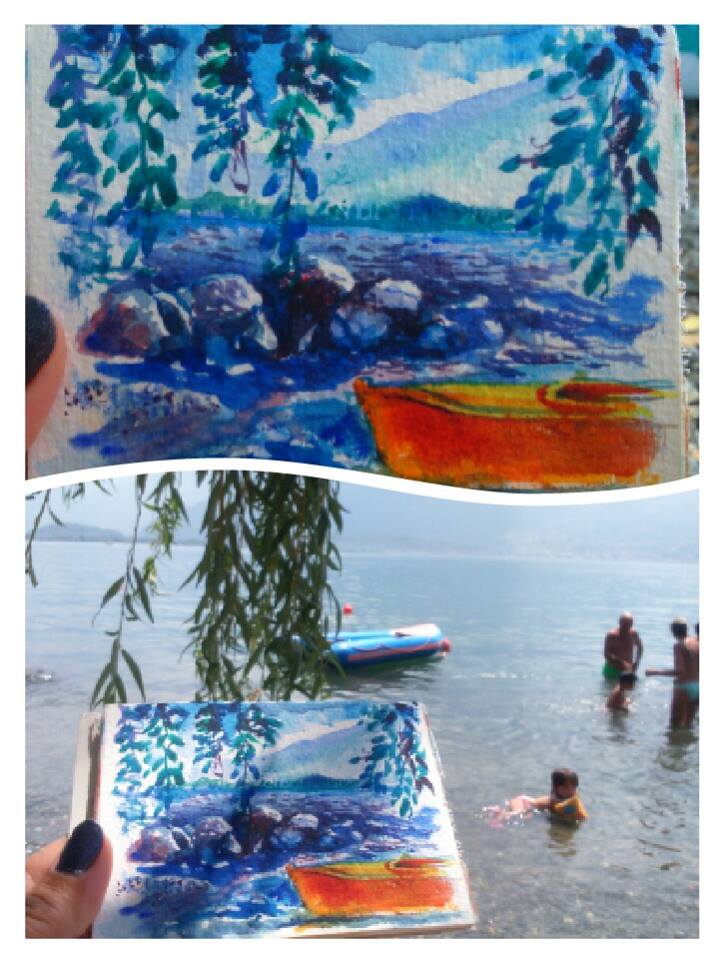 Two striped beach chairs are placed here side by side every day. She opts to sit on the rocks so she can splash her feet in the water's ripples while reading her magazine. He leans back in his chair, content with the day's giornali as a wakeboarder whizzes by. Sailboats glide in the distance, blown by a light breeze.
It's a perfect sketch journal moment. I reach for my aquarelle block and ink pen.
I want to ask them how long they've been together, the secrets of their happiness, and how they came to live on these shores.
I love to watch the elderly couples strolling or swimming romantically on the lake. And here, there are many of them. I wonder what all their stories are, how much time has passed between them…how much time is left. I don't yet speak enough Italian to say everything I'd like to, but if I could, I'd ask them to spill the secrets of eternal love. What does it take to keep that kind of commitment, and still enjoy each other's company after so many decades have passed? Someday, I'll speak enough of the language to communicate in theirs.
The next day, we meet their daughter, a woman my age who is visiting from Milan with her three young children, their grandchildren. She tells me that her mother and father, ages 72 and 73, have been married for 45 years.
Nearly half a century.
And still, they seem like teenagers—her, in a different orange floral bikini today; he, with his wide-brimmed hat, offering the kids a lift in their boat.
I continue the picture, adding watercolors to complete it. Of course, my paintbrush doesn't do the subject—Lago di Como—justice, but it's not that easy to paint perfection.
The Hungarian pianist and essayist Franz Liszt tried to describe it in the 1800's. And he did so quite precisely:
…here, under a blue sky where the air is soft, the heart expands and our senses open to all the joys of life. The accessible mountains draw us upwards to their green peaks, rich farmlands flourish on their slopes, and the chestnut, mulberry and olive trees, the corn, and the grapevines, all give promise of abundance. Cool waters temper the sun's heat. Splendid days are followed by voluptuous nights. Here, a man can breathe freely, surrounded by friendly nature…not disturbed by gigantic masses. He can love, or he can empty his mind and relax, since all he seems to be doing is enjoying his share of the general bliss.
The nonno and nonna take a peek at my picture, and their granddaughter joins them in looking.
"Bellissimma! Complimenti!" Nonna gushes. "Grazie!" She thanks me profusely.
Yet it is I who am grateful, every day given the gift of a share of their "general bliss".
So I gift back the picture, packing it into nonno's waterproof pouch. He thanks me again and says he will display it proudly in his lake home, together with all the pictures and artworks he has received from his children and grandchildren.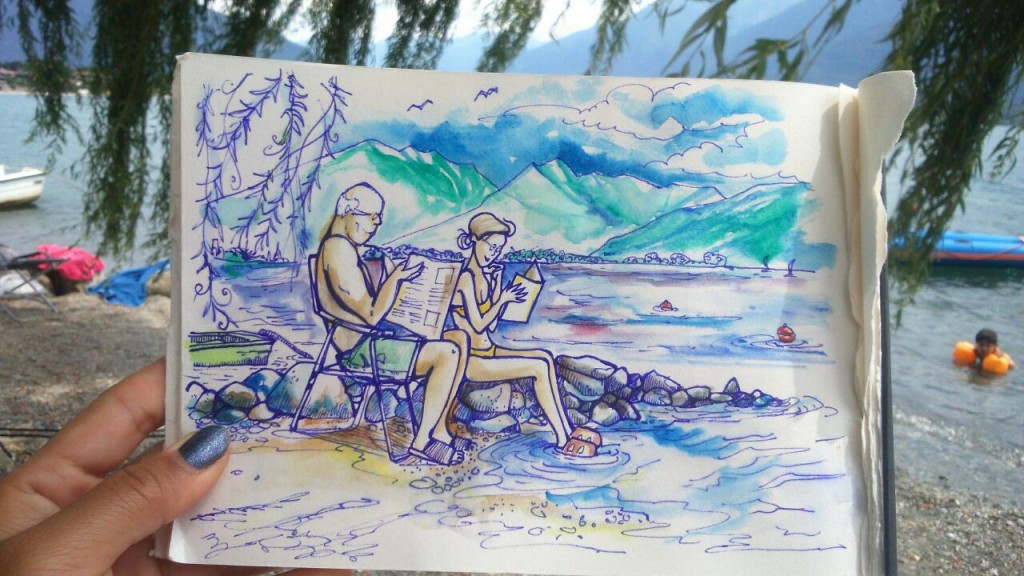 I'm glad for a gift back to them–a glimpse of their life and this special moment. What I love about the picture is that they are together in their space, yet each separately buried in their books. Two different individuals, joined for 45 years.
They wave goodbye, and climb the steps leading up to their lakeside home.
"Arrivederci! A domani!"
For it really is–as true love is–what the Italians say: never goodbye, but only, until we meet again.
Until tomorrow. 
+++
"If in your dreams you see a woman whose heaven-sent beauty is not a snare for the senses, but a revelation to the soul, and if a man with an honest and pure heart appears there beside her, write a moving love story about them and begin it with the words: "On the shores of Lake Como".—Franz Liszt
Visit My Art Shop and Wine Paintings Gallery here