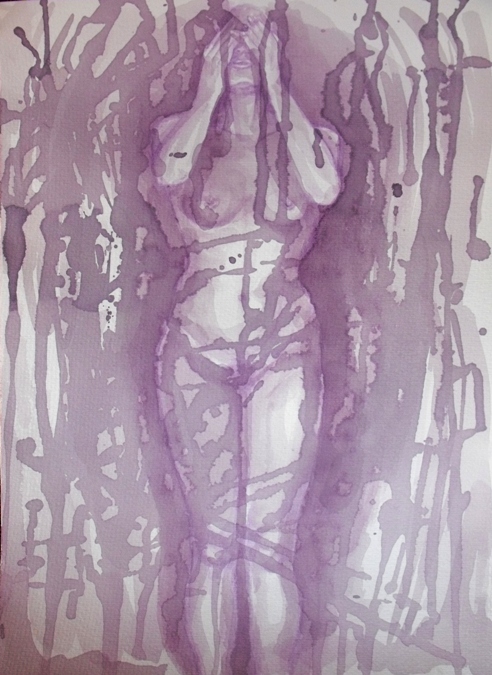 Picasso once said, "Art washes from the soul the dust of everyday life."
I believe art can also wash FORTH the soul, baring and exhibiting it; transforming the dust of everyday living into powerful experiences of energy and light.
Making wine-art is my way of celebrating all the wonderful gifts life has given.  My paintings portray the emotions and imperfections of humanity; each piece is made with passion, vibrant and energetic.
 Vinorelle: Painting and Pairing with Wine:
Painting with red wine creates a sense of unlimited space and intense action. Both the flow and the unpredictability of this medium make it an exciting process.
I combine the use of Chinese calligraphy brushes with the deep full-bodied colors and flavors of red wine.
To make the most out of the wine's magic, I often use a drip-method; the paintbrush itself rarely touches the paper. The wine freely flows where it wills; loosely and energetically.
And, like the effects of a good wine, the magenta colors of the wine's lovely stain intensify with time. Their transparent layers deepen, and the final picture emerges.
I also often paint on the floor, or standing over my canvas. This gives me more control over the piece, with space to move about freely as the artwork emerges.
Click the images below to sample some original fine-wine art, shop around, or contact me for commissions and collaborations.[/vc_column_text][/vc_column][/vc_row][vc_row][vc_column width="1/1″][vc_gallery images="73,71,69,55,54,53,52,51,50,48,27″ type="image_grid" grid_style="circle" img_size="full" columns="col3″ onclick="link_image" interval="5″ show_bullets="true"][/vc_column][/vc_row][vc_row][vc_column width="1/1″]
[/vc_column][/vc_row]