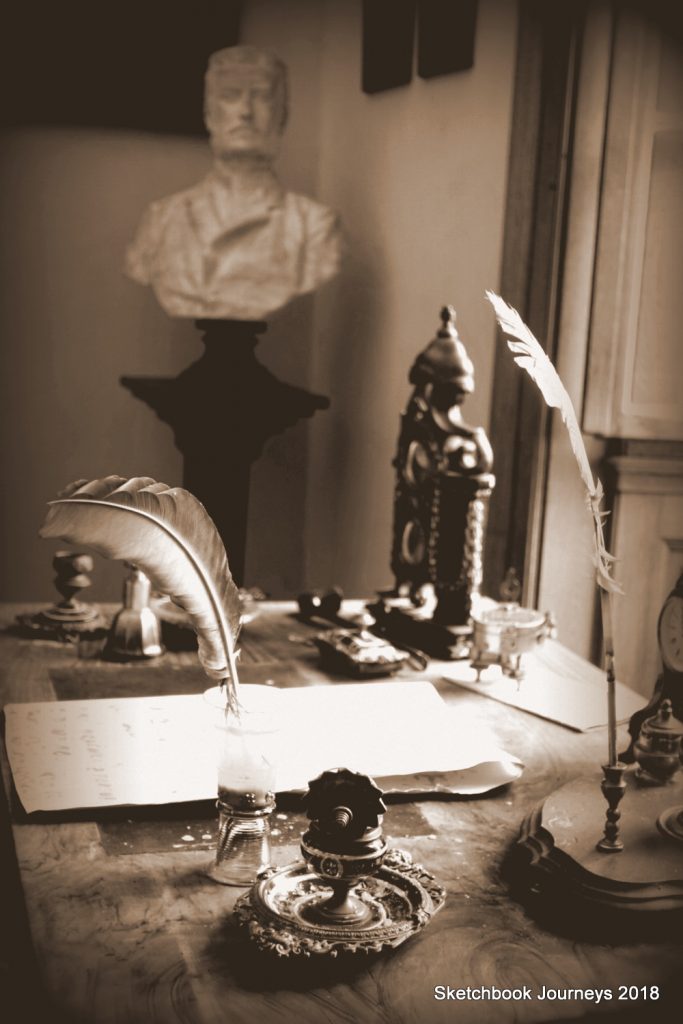 At 4 am, sunlight was already starting to filter through my open window at Hostinec U Hubálků. We zombied out of bed, packed bags and headed for the van outside.
Tereza was at the wheel, zooming us along toward the Krkonoše Mountain range. "Sorry we have to get you up early," she'd said, "but we want to be there before the crowds!"
With Denisa, Jan, and Lukas (Czech Tourism team) planning my itinerary, I was free to sketch and write, unhampered by the usual stress of travel planning.
Everywhere we went, I took my sketchbook, curious to find different scenes and places to draw. Here are four stops along our route in Hradec Kralove.
On a Steamboat Along the Labe River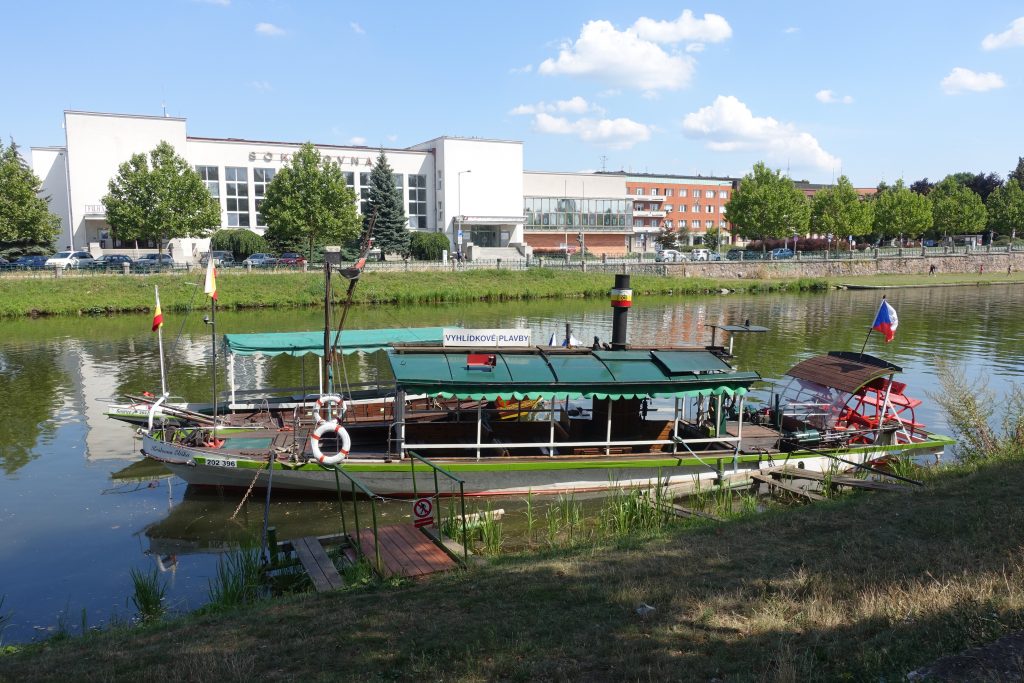 In the past, nothing was hurried. You either swam across the river or went by steamboat.
Today, you can still enjoy a moving view from the water by riding local paddle steamers along the river Labe (Elbe). A cool respite from summer heat, plus the clanking of the captain's hand-cranked engine brings back the sweetness of slow travel.
Travel Tip: The paddle steamboat service runs from May to October. Rides are 50 minutes to an hour long.
Sketching at the Top of the White Tower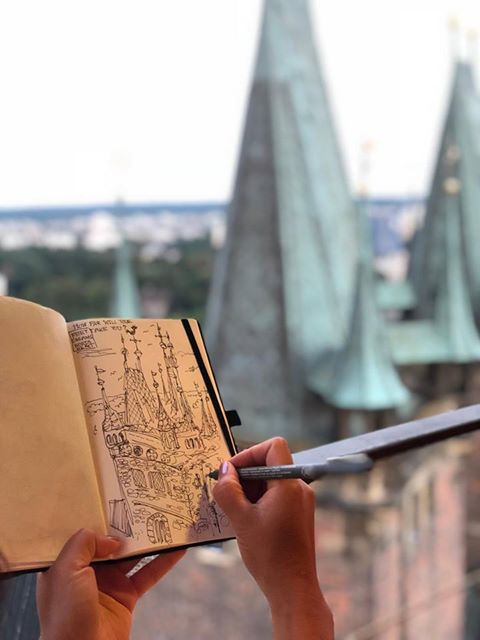 From the height of 72 meters, the historic White Tower enchants visitors with the best sunset views. In the distance rise misty peaks of the Krkonoše and Orlické Mountains.
Travel Tip: The White Tower is open daily from 9 AM until 6 PM. Click here for all important visitor info.
Strolling Through the Jirásek Gardens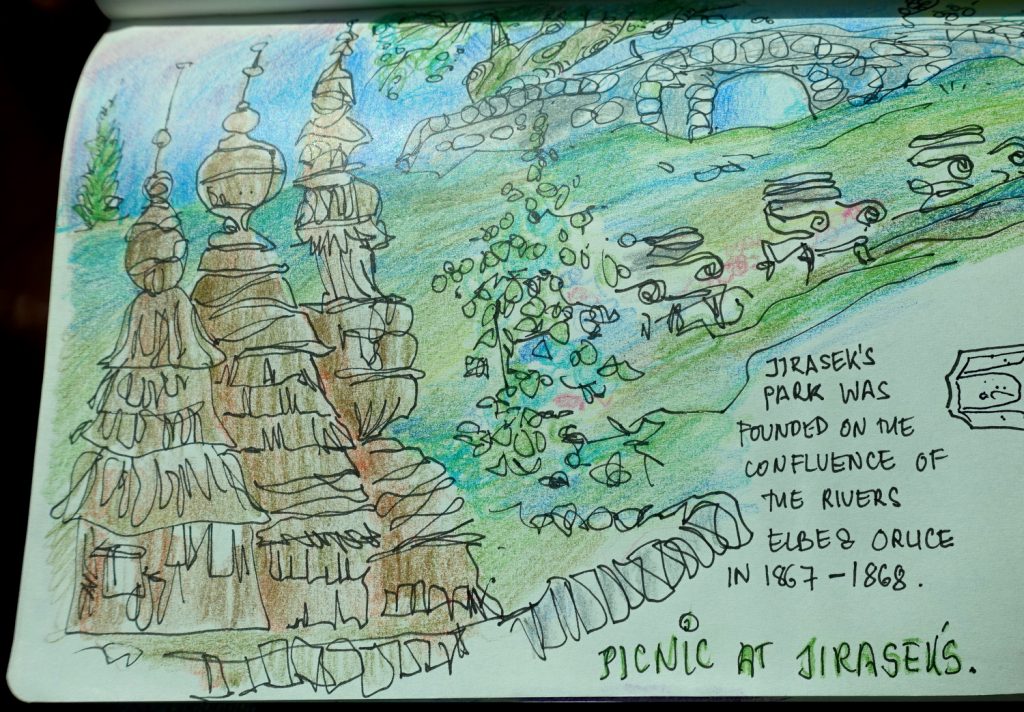 These manicured gardens were named after Alois Jirásek, (1851-193o) a national figure, and one of the Czech Republic's most renowned novelists.
It was here, where two rivers meet and rise, that I sketched the 500-year-old church of St Niklaus (above). Denisa had prepped a picnic of fresh fruits and sandwiches filled with duck liver pate. Delicious!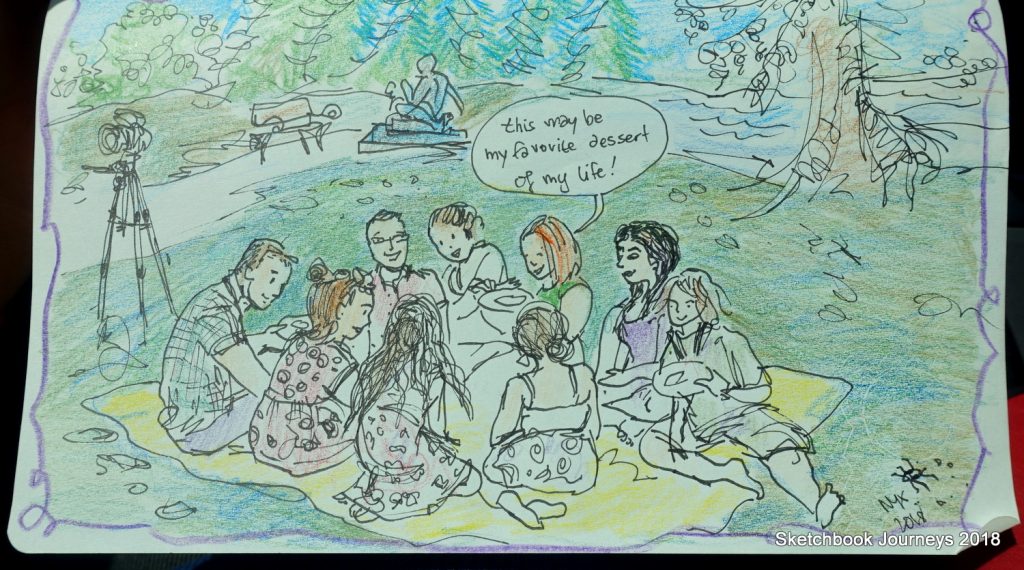 Travel Tip: The Jirásek Gardens are a perfect place for picture ops (Instagrammers, take note!), an afternoon stroll, or a picnic. Opening hours: Apr–Sep: 6 AM–9 PM, Oct–Mar: 6 AM–4 PM
Hiking the "Rock Town" of Ardspach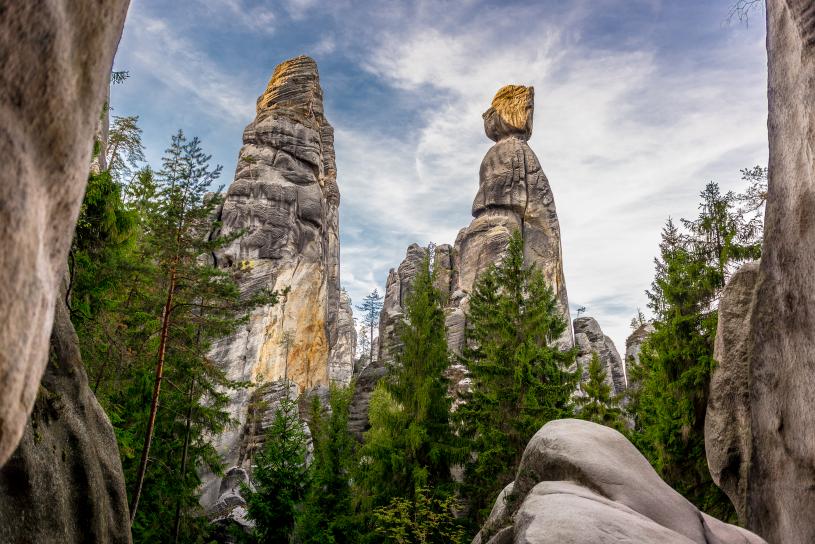 This place is nothing short of magic. I sketched around the Adršpach-Teplice Rocks, a protected National Nature Reserve. Our guide Pavel told me how Goethe himself came to sketch amongst the labyrinth of sandstone formations. There's a little bust dedicated to his journeys here. Below is my sketch of Pavel and Tuliyani, of The Willing Road.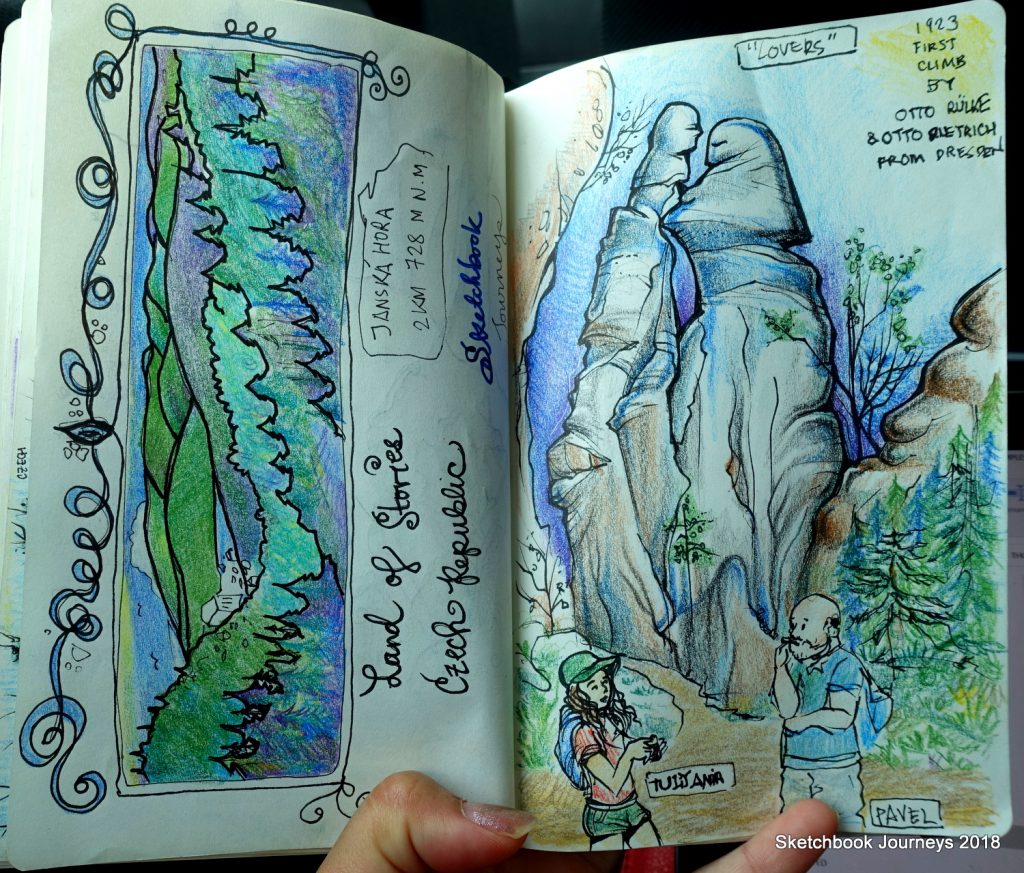 Travel tip: Come when the park first opens to escape the crowds. Allot at least three hours to marvel at the 6,000 boulders. Then, move along to the Ostaš nature reserve to go slacklining with Tom and Bara, the barefoot climbing instructors of Tom Adventures.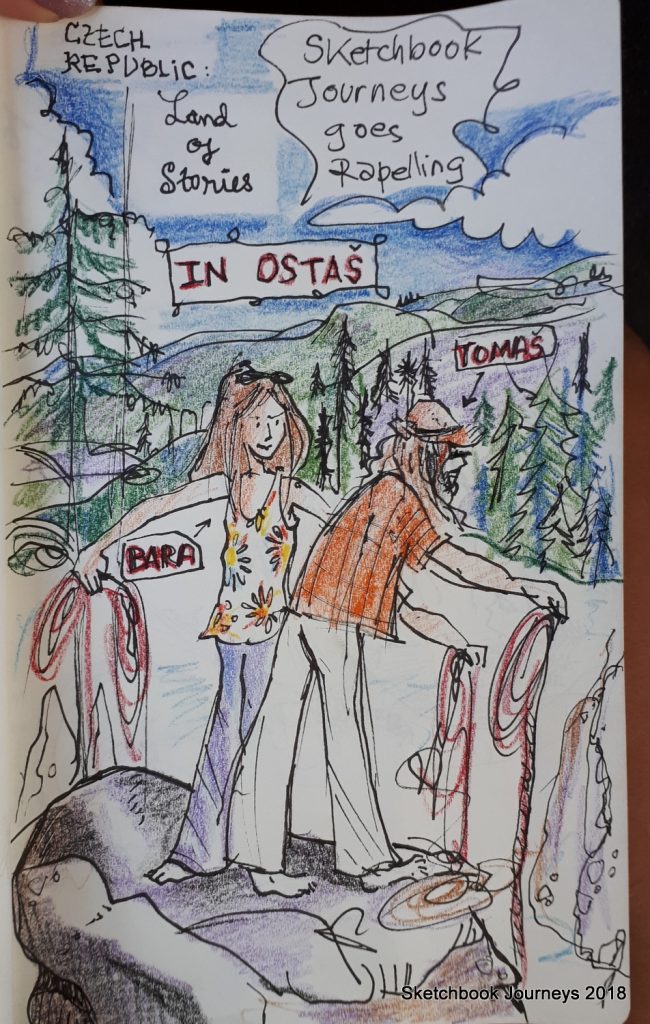 There's something about travel to a foreign place that changes or reshapes your thinking. It opens your mind to new possibilities, gives you fresh ideas, or brings you back to the joy of childlike awe.
After two weeks in the Czech Republic, I was convinced creatives do need both: a lot of will to work on demand, and a little help from some of the world's most inspiring places—like the Hradec Králové region!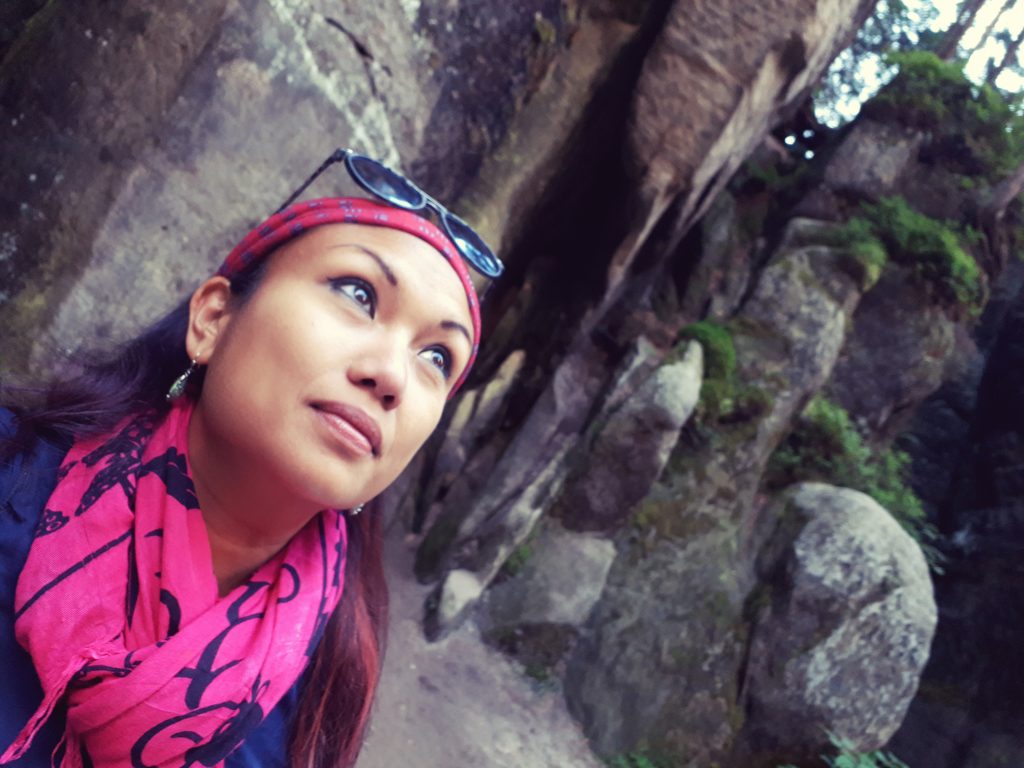 Travel Notes
The entire Czech Republic is great for travelers with every type of budget. Ideas for overnight or week-long stays include:
Hotel Grand, a 4-star hotel with 120 years of history, is in the very center of the town. Walking distance to the steamboats and cycle routes. Breakfast, parking, and WiFi included. Doubles from €76. www.grandhk.cz
Hostinec U Hubálků. This simple Bed and Breakfast had turned out to serve some of the finest food in the region (which I must save another story for!) If you have to rise early, manager Stanley brews an excellent espresso. Doubles from €53. www.uhubalku.cz
Getting Around Hradec Králové:
There are regular trains leaving to Hradec Králové from Prague's main train station. Travel time is just under two hours. Once in the city, a convenient way to get around is with Jan Mrazek van rentals. www.janmrazek.cz
Have you been to the HK region in Northern Bohemia before? What did you like most about it? Let me know in the comments below–I do hope to return!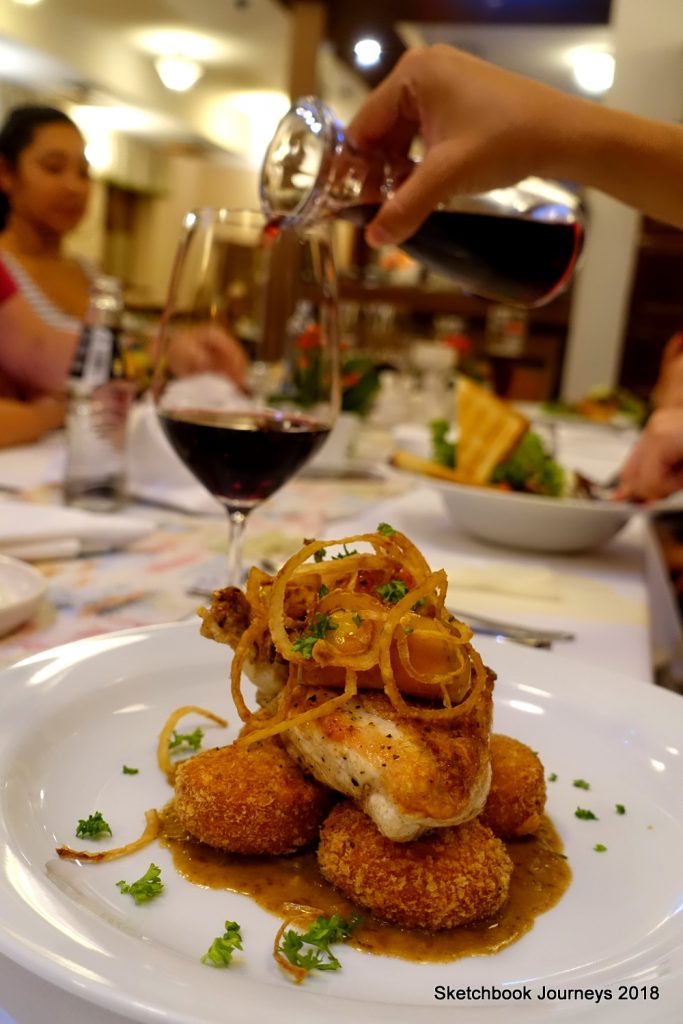 This October 2018, the Czech Republic celebrates 100 years of independence. Get out of a creative slump, and ahead of the crowds to experience Hradec Králové for yourself. For more information, visit www.hkregion.cz