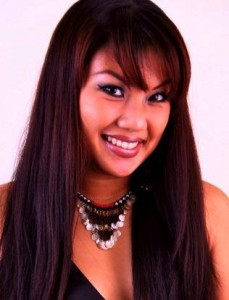 Nikki is a Filipina artist, writer, and narrator. She previously facilitated art therapy courses in the Philippines' National prison and the Philippine General Hospital. Her paintings can be seen in the Kampala National Hospital wall murals and in private collections. She has also exhibited in Brussels, Kampala, Manila, and Lake Como.
Her written work has been published in print and online in Chicken Soup for the Soul, Best of the Best Philippines, Artsy.net, Smart Parenting, Surfer Today, Mind Valley, Female Network, Good Housekeeping, Volunteer Forever, Asian Traveler Magazine, Expat TV, Pinoy Pride TV, the Uganda Observer, Illustrado Magazine and Mabuhay Magazine.
She has performed with the Kampala National Theater in Uganda, as a talent of Voice of America in the Philippines, and with Compagnia Teatro Iniziatico dell Arthena in Italy. You can hear her narration work as the voice of the Living Asia Channel, Avon, Jergens, narrating Sleep Stories on Soothing Pod, and The Pause Podcast.
Check out some samples of Nikki's work:
Travel Destination Information—Know what to pack for a Trip to Southeast Asia 
Travel Stories for Booking Platforms—Get Budget Tips for Italy
Art & Lifestyle Features for Digital Magazines—Read About Leonard da Vinci's Trail in Lake Como
Audio for Wellness Apps—Visit Soothing Pod Sleep Stories
Podcast Content –Listen to The Pause
Corporate Promotions—See a Visual Ad Sample
Youtube Campaigns—Watch Deposit Photos' Artists on Lockdown
Print Magazine Articles—Experience a feast in Lake Como
Find Nikki on:
Instagram: sketchbook.journeys
Contact Nikki:
+39 338 2113175 (WhatsApp)
nikkimartinez.media@gmail.com