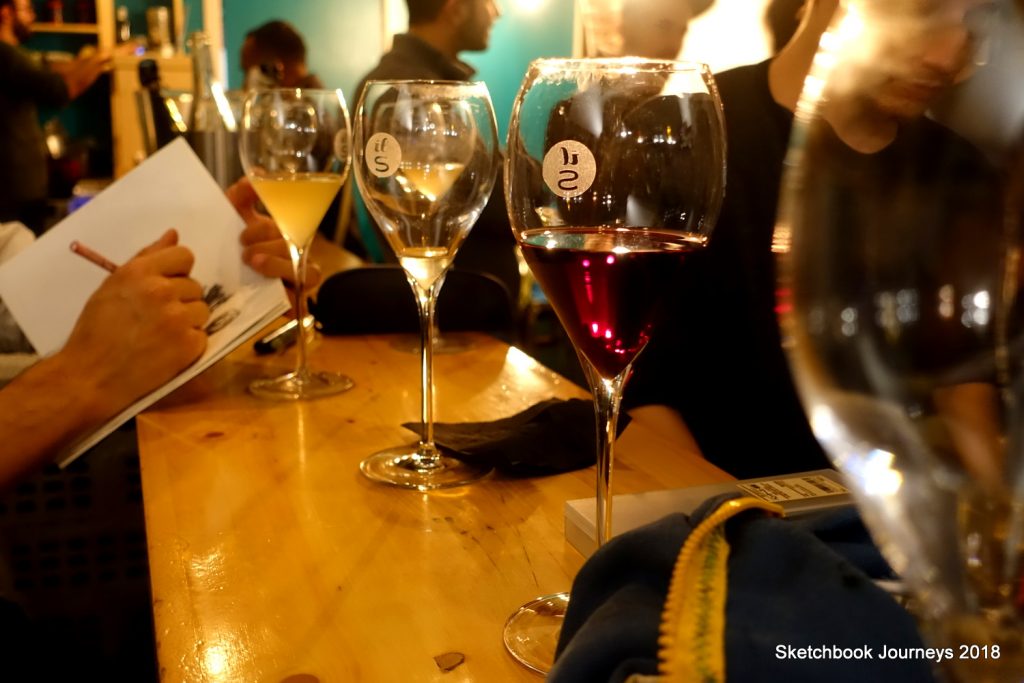 It was an unusually hot Wednesday evening in mid-October when I set out to find wine and art in Milan. The canals along Porta Genova were alive long before Aperitivo time; everyone wanted to hang on to this last little bit of warmth.
At around 9 pm, I made my way down one moonlit path and located Il Secco, a warmly-lit and lively Prosecco bar.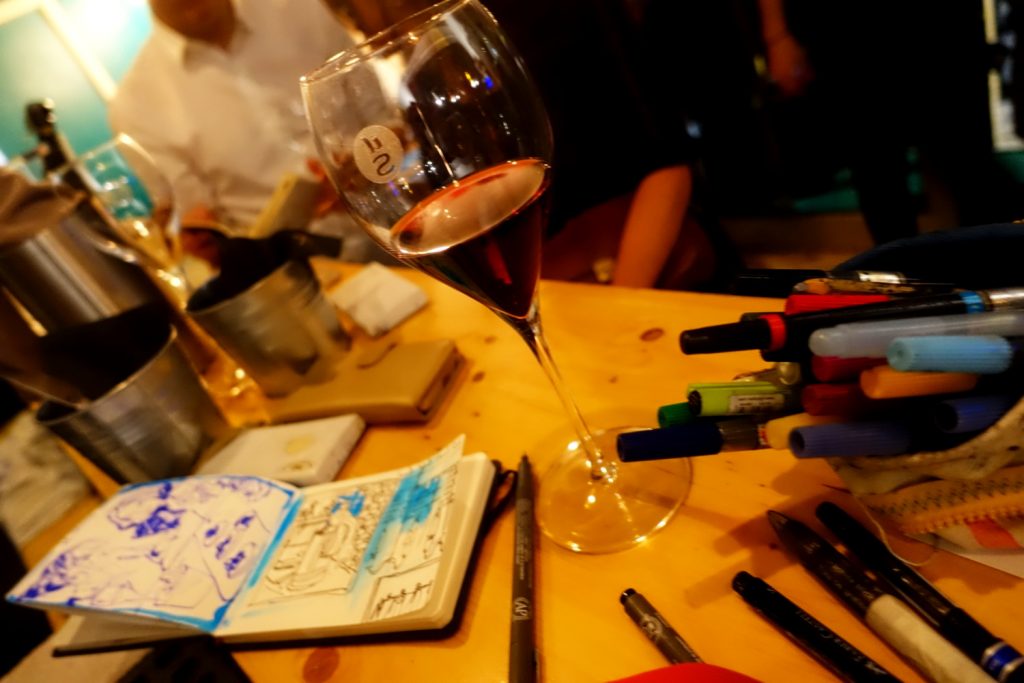 It was my second time to the bar within 48 hours, but only because I'd mixed up the dates and went a whole night earlier to the sketching event.
"Ma, Oggi e Martedi!" (But, today is Tuesday!) the bartender had said, when I inquired where the Wednesday art group was.
I sat down anyway, with a glass of Montalcino wine he recommended, plus a mini plate of taglieri di formaggi e salumi, assorted cheeses and salami, to go with it.
Alone, but enjoying myself, I sketched away. On a Tuesday night, the bar was quiet and only half full.
Wednesday: Mercoledi 
The next night, I made sure: "Oggi—Mercoledi?" (Today–Wednesday?)
"Si, si," the bartender assured me.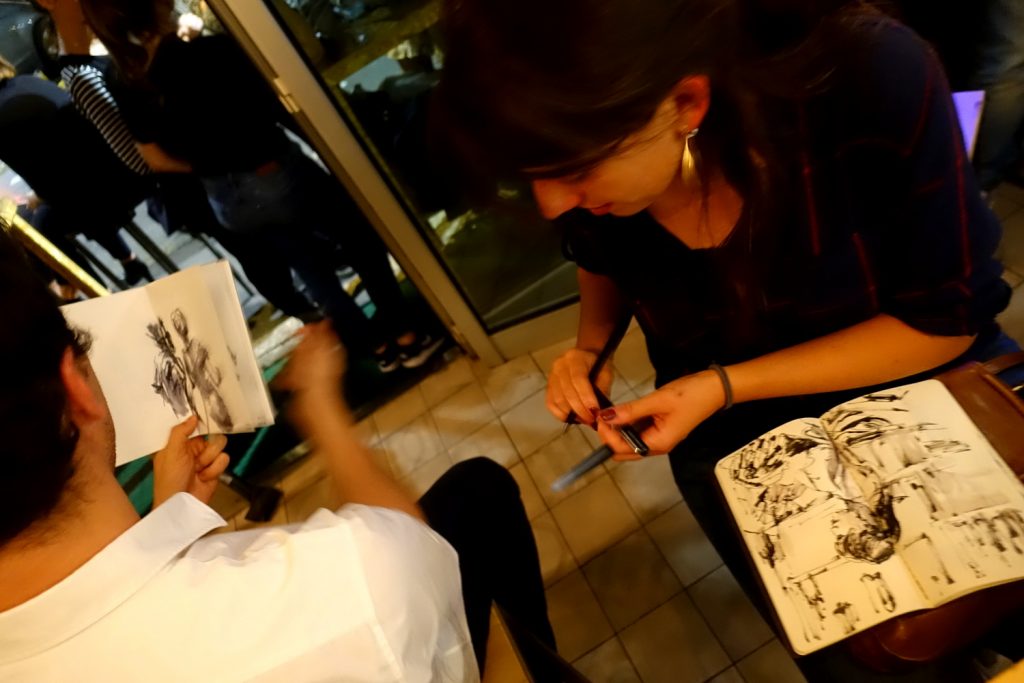 The other sketchers soon showed up for Mercoledi al Secco. I told them how art events in Italy often double as an Italian lesson for me.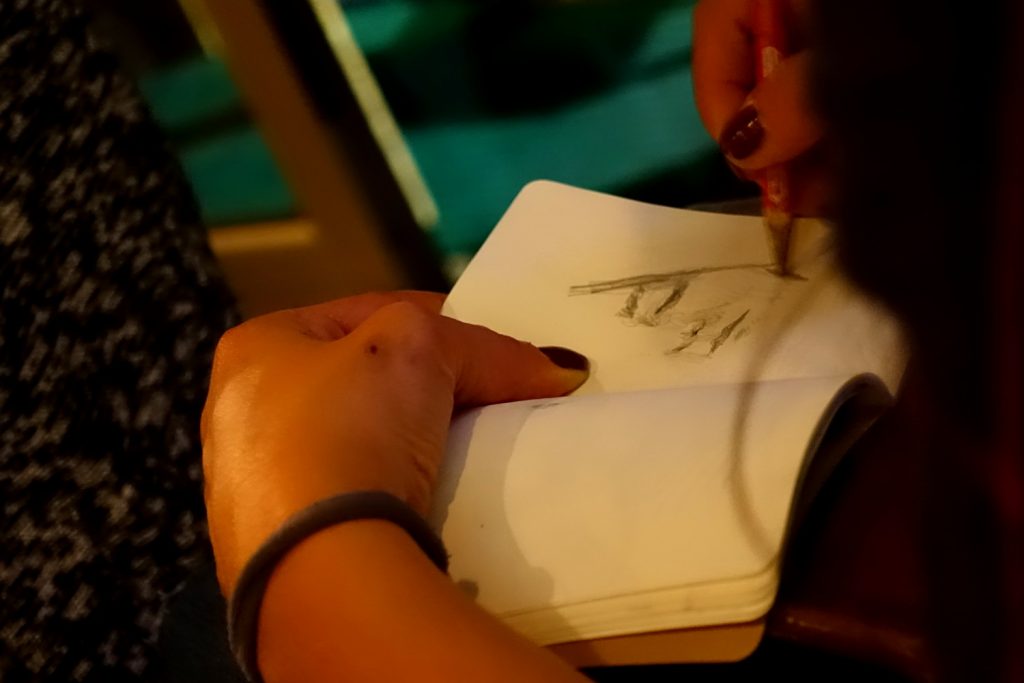 Art & Wine: The Perfect Pairing
There is something comforting about being in a place with folks who get you—without having to say a word. And in art gatherings like these, there is mutual understanding.
I watched as the others sat and sketched quietly by the bar. Other guests came and went; the sketchers admired each others' works. Marianna urged me to sketch. "Right now!" she smiled.
"Marianna is one of the best restoration artists in the city!" proclaimed someone beside me.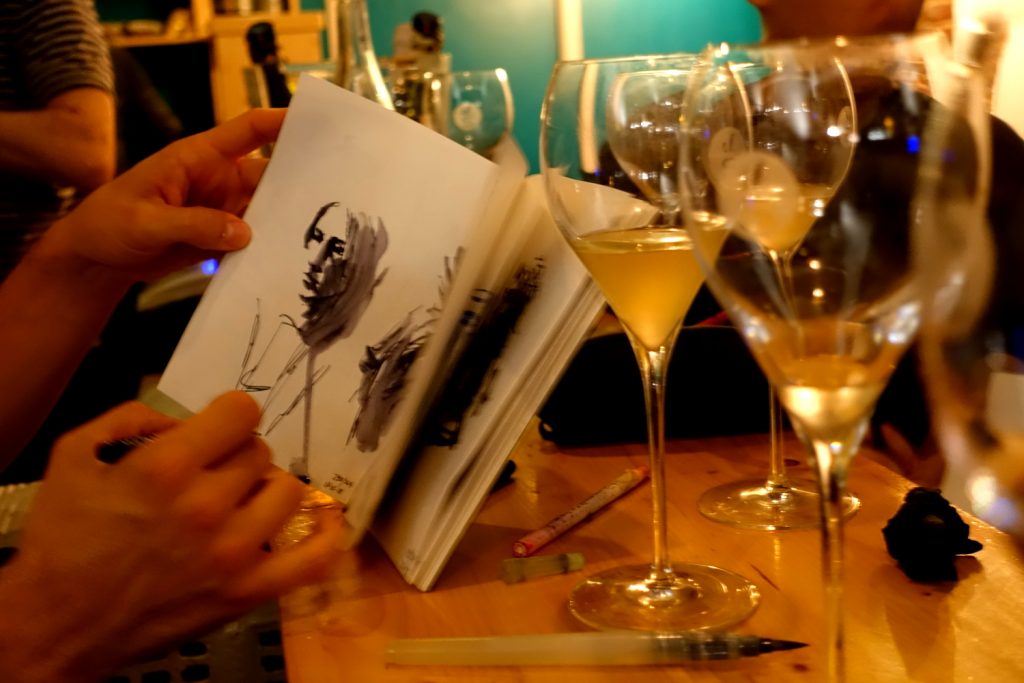 Riccardo, the artist who organized the event, kept on making portraits where only the negative tones were blocked in. I was fascinated by his swiftness, the ease with which he outlined the human form in all its likeness, without even marking a harsh contour.
Andrea, an illustrator who just released a book, Gatto Killer, refilled our glasses, welcoming folks as they streamed through the entrance. You can buy his funny book series here.
The prosecco was overflowing; we understood each other and this need to create. We also understood that creation often happens spontaneously. No giant plans needed.
If art is a language, and wine loosens the tongue, I cannot think of a more perfect pairing.
+++
The Urban Sketchers Milano group meets every Saturday to sketch around the city. Wednesday evenings are for sketching in the Prosecco bar. Just show up, bring a sketchbook, and have a good time. www.urbansketchers.org
Il Secco: via Fumagalli 2, 20143 Milano
Contact: +39 0248677328 or email ilsecco@ilsecco.com.