Reading Time:
5
minutes
[vc_row][vc_column][vc_column_text]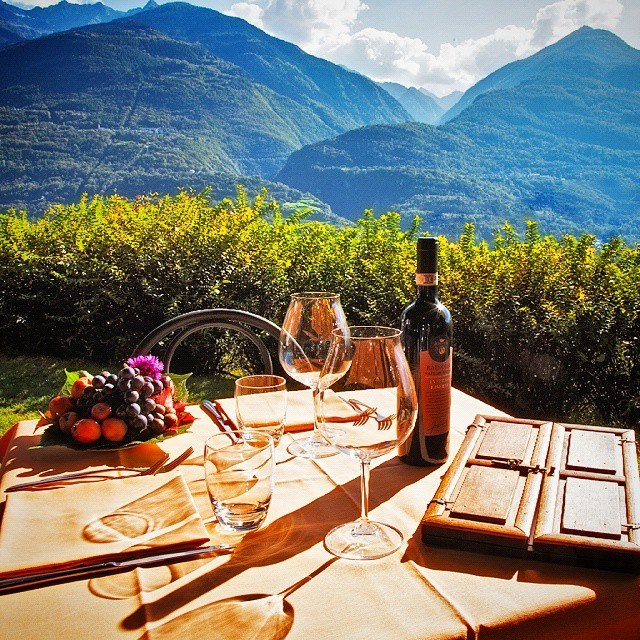 The last time I found myself teeter-tottering on terraces in the middle of nature, it was beneath the Sagada sun. The impressive ground below my feet was made up of fields of rice. They were intricately carved and a gleaming green: the famous Philippine rice fields. John was miles ahead of me, eager to reach the giant waterfall in the distance.
Six years later, I'm clinging to stacked rocks again, in a maze of terraces. John is still ahead. But this time, I'm last in line of the single file. Our two-year-old feisty daughter sits merrily on his shoulders, and our 5-year-old son skips behind him. We're headed for a medieval castle, also visible in the distance. These are the terraces built by hand for the Chiavennasca grape, and we are traipsing under the Valtellina sun.
At least I wore the right shoes, I thought. Earlier in the day I'd tossed between black knee-high leather boots or jogging shoes for today. Easing myself over the narrow bit of rocky slope leading to the terrace below was relatively easy, but after two hours, I was lagging behind my travel buddies—as usual.
+++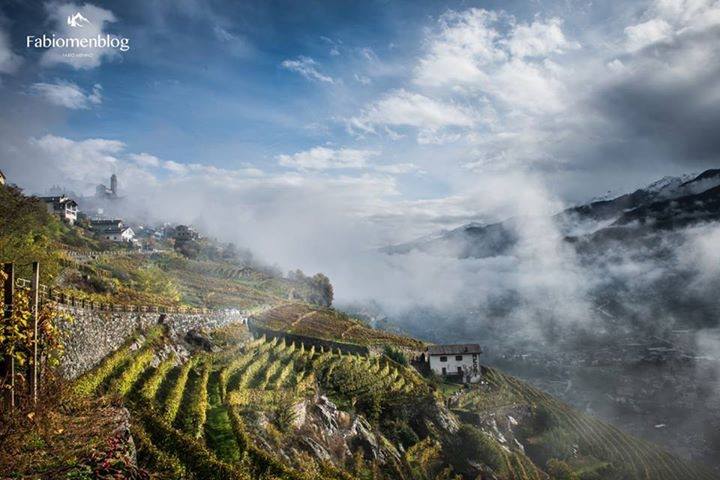 The Valtellina area is known for its abundance of vineyards, and its wines. Set in the north just a couple hours from Milan, it borders Switzerland. This weekend, we drove to the Grumello sub-region and checked into (what else) the Wine Hotel. In the crisp countryside air, villages clung to cliffs, connected with winding roads to the lower valley communities. All shone with a late October light, each church steeple rising serenely between hills. Vibrant autumn colors blended into green, lush lands alongside the river Adda below, contrasting blinding white sheets of snow from the Alps above.
Since coming to Lake Como three years ago, I've been biased to the Valtellina Inferno wines. But this was my first time to see the exact vineyards where these particular grapes are cultivated.
The dark blue clusters growing on these steep slopes are named Nebbiolo (sometimes also called Chiavennasca). There are five main Valtellina Superiore wines: Grumello, Inferno, Sassella, Maroggia and Valgella. Some labels will have the "Superiore", and this means that they have been ageing in oak barrels for 12 months. A proper "riserva" must be aged for a full three years!
Not a connoisseur at all myself, I asked Isabella Pelizzatti Perego, fifth generation winemaker and grower of the ArPePe wines where we were hiking (our hotel room displayed one of their family's  bottles) to clarify this.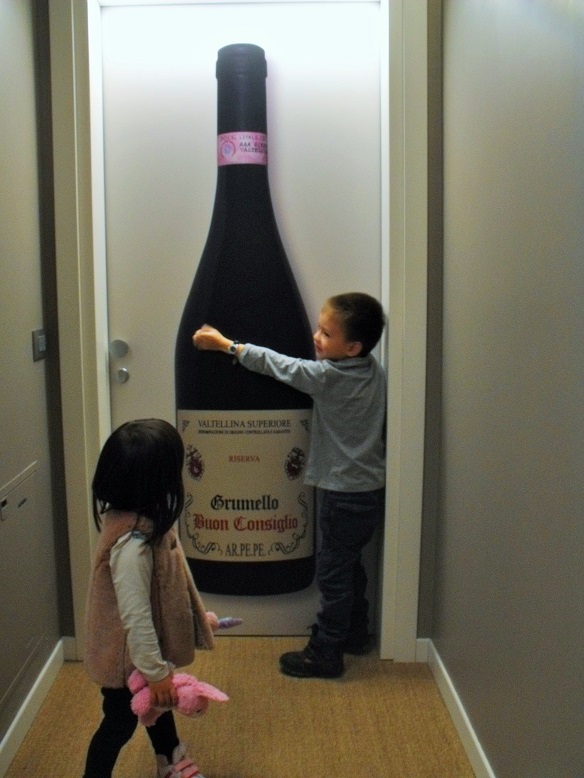 "Grumello, Inferno, Sassella, Maroggia and Valgella" are the Valtellina Superiore subzones, " she told me, "but you could find Valtellina Superiore also without one of the five subzone names, since grapes are coming mainly from Valtellina Superiore/Tirano area. Since it is a mix of different subzones the wine is not allowed to keep the single subzone name." (Read more about their family's delicious and traditionally-grown wines here.)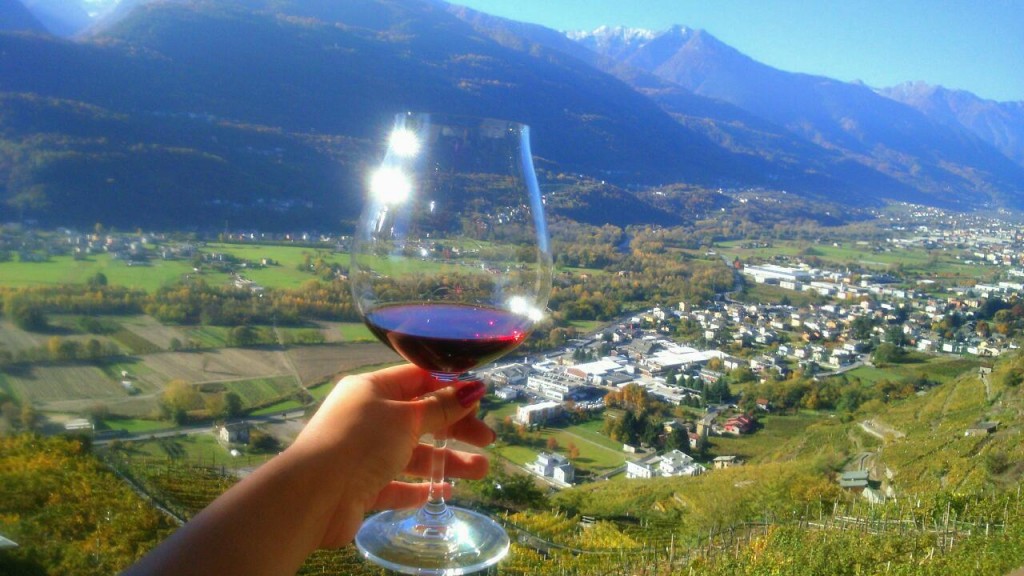 To see the terraces is to revisit a remarkable, old tradition. Perfectly stacked rocks were built—by hand—to form the terraces, on slopes facing the sun to the south. The grapes are also harvested by hand, so you can imagine the sheer amount of manual labor involved, the painstaking work to produce such a luscious wine.
"The vineyards were built 1000 years ago of dry stone, rocks on top of another," says Paolo Canclini, US importer of ArPePe Wines. "You work all the four seasons. It's important to go to the Valtellina and see these people, what they can do takes three to five times more amount of time and money, than any other area."
Grumello's terraced vineyards reach 2,200ft (670m) above the Adda river, and in the distance we could see the Castello Grumello, ruins of an old medieval castle. It took just over an hour to reach it by foot, and the reward of a view so remarkable as this was one that was worth the hike.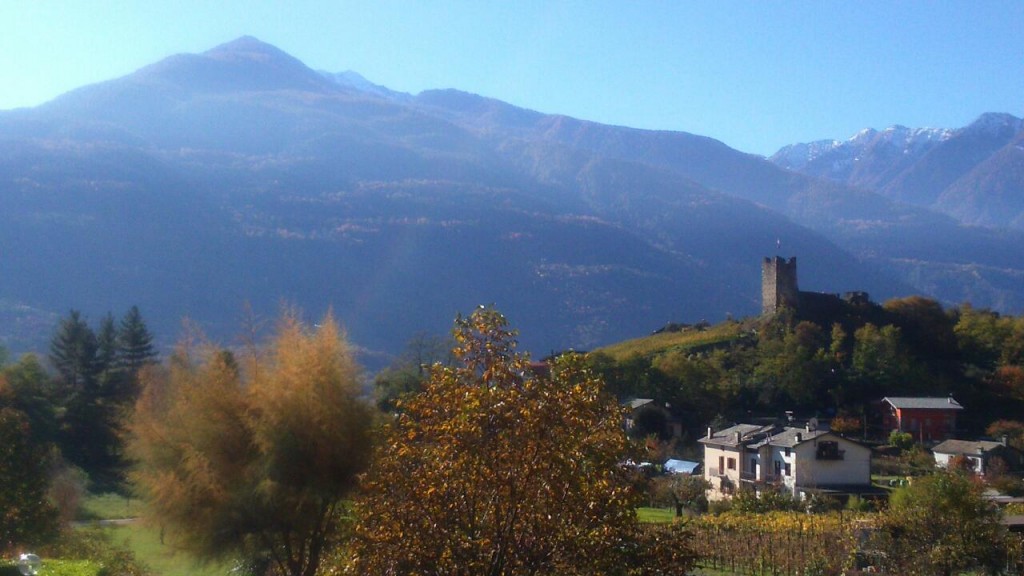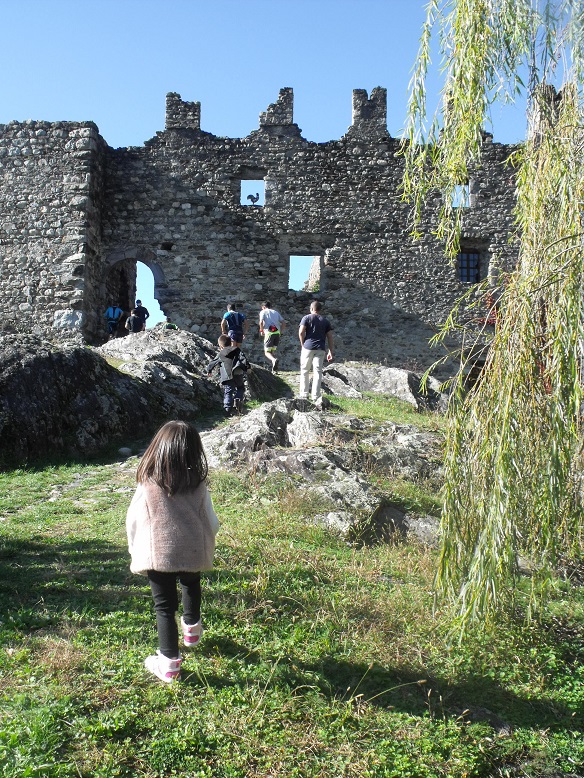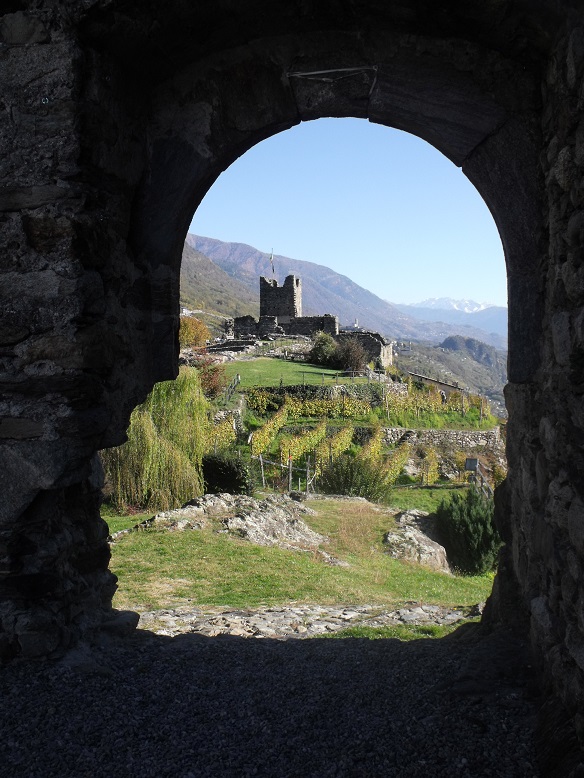 A few runners were powering up these same slopes, perhaps practicing for the Valtellina marathon happening next weekend. A couple of days in the area was hardly enough time to learn all there is to know about the local wines, but for us, it was more to focus on doing things together, enjoying nature with each other.
Whether chasing castles or waterfalls, whether lagging behind or being the first one to the top, whether as a couple on a romantic holiday, or a full-on family with energetic kids who leave you exhausted by the end of the day…what matters is that you journey together, and just have fun.
Wearing the right shoes also helps.
If you love both wine and art, be sure to check out my Wine Art Gallery! An early Christmas sale is ongoing in the shop. Thanks for stopping by, Salute!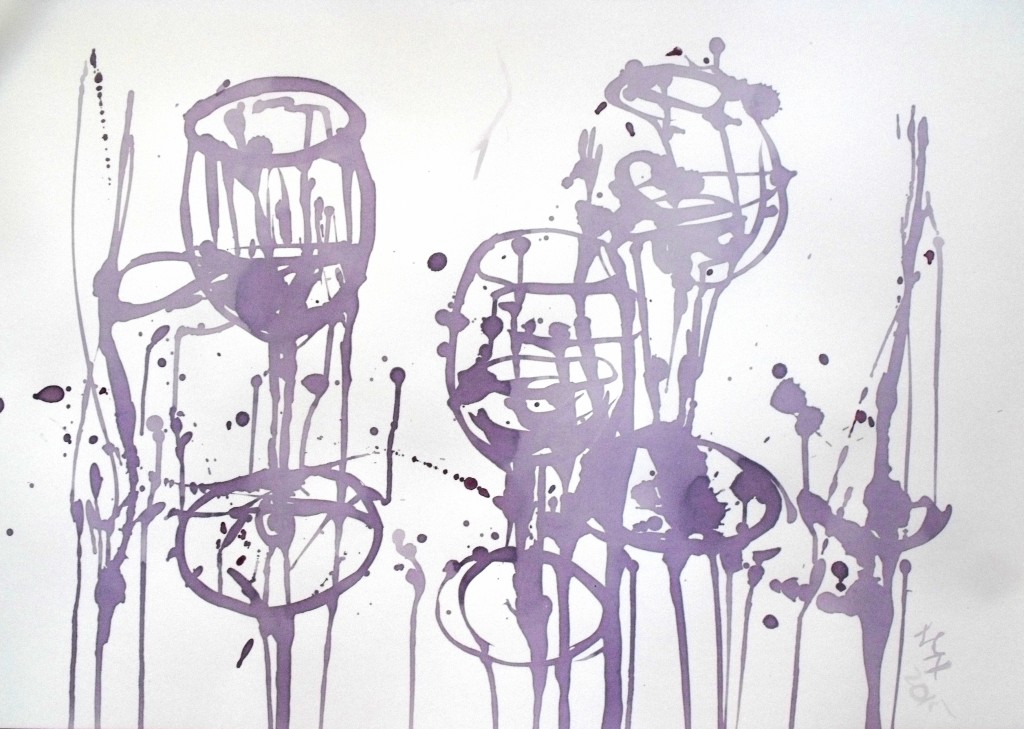 Valtellina Holiday Tips:
Where to Stay: The Wine Hotel Retici Balzi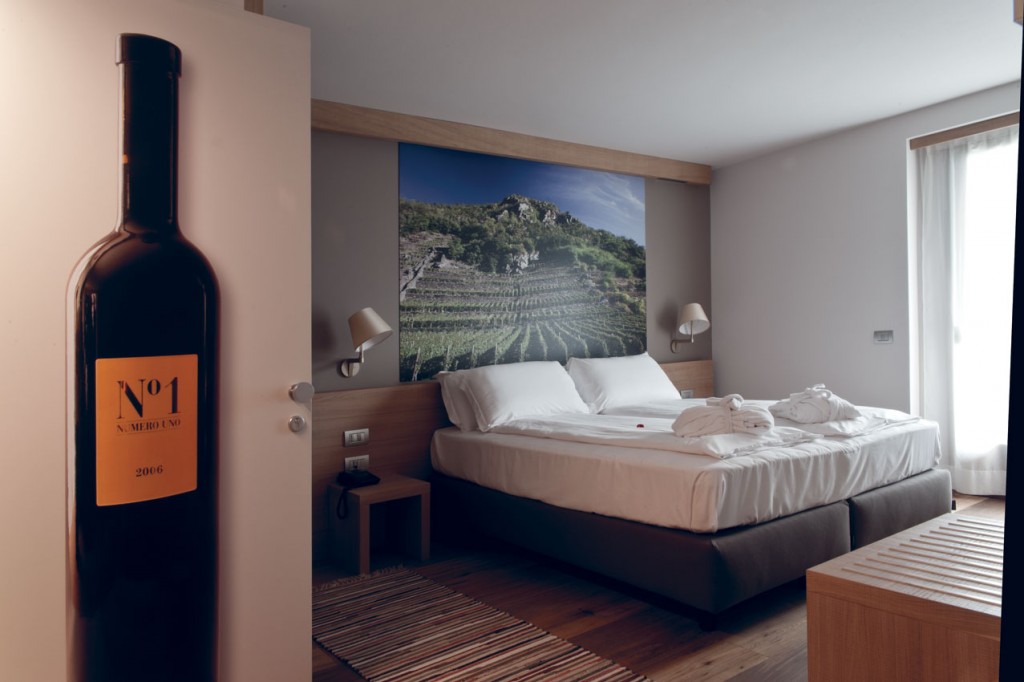 Wine-themed rooms, a spa, a cellar for private wine-tastings, and direct access to the vineyards makes this hotel a perfect place to spend the night. The hotel itself is built right on the terraced slopes, with easy entry from the main road. A bonus for kids, is their play and reading corner equipped with toys, puzzles, board games, and a variety of books about the region and its wines.
Address: Via Panoramica 2, Poggiridenti
Tel: (+39) 0342 38.20.92)
Where to Eat: Il Poggio Ristorante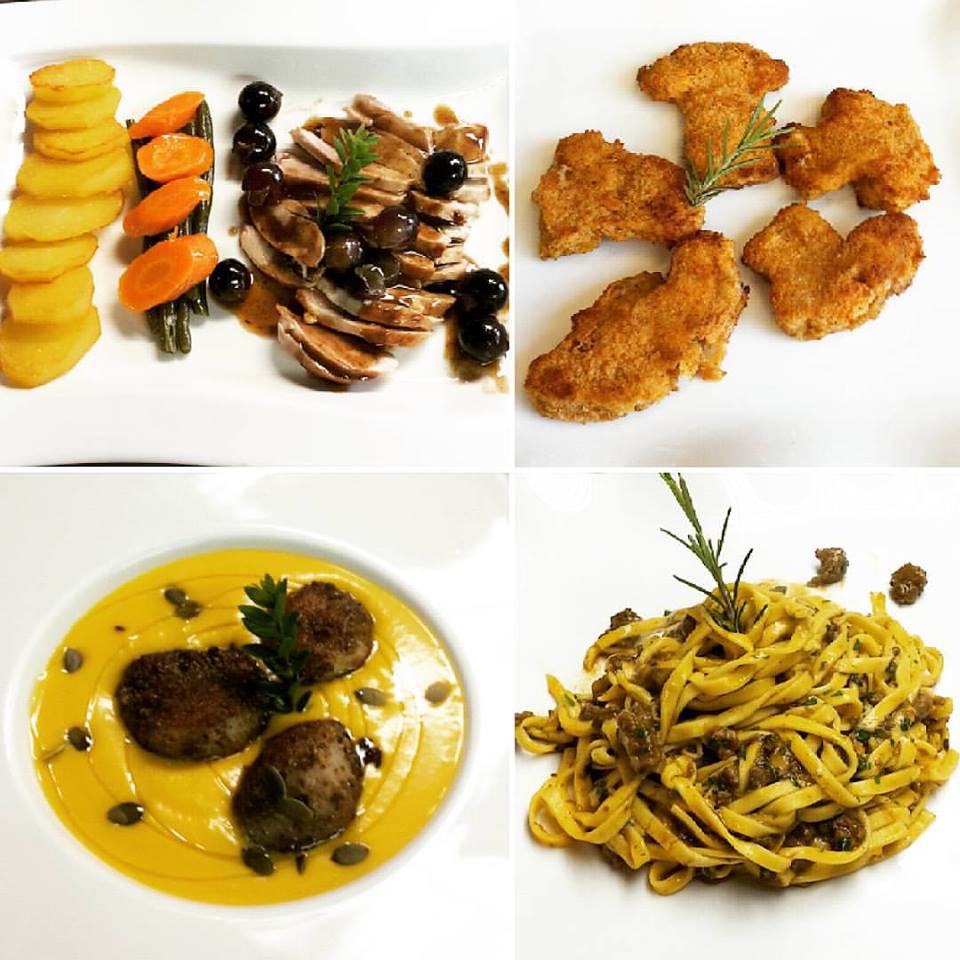 Traditional food from the region, plated abundantly in a cozy setting with a full view of the Grumello vineyards.
Via Panoramica 4, Poggiridenti
[/vc_column_text][/vc_column][/vc_row][vc_row][vc_column width="1/1″][vc_button title="Take me to the Wine Art Gallery! " href="http://www.nyxmartinez.com/wine-paintings/" target="_blank" color="solid-red" size="btn-large" uxb_icon=" icon-glass"][/vc_column][/vc_row]