It's a very eerie feeling, stepping into an actual ghost town.
Everything is as it once stood…rows of identical homes…mazes of stone streets…water fountains which once quenched the children's thirst. The temples, dedicated sanctuaries…the markets, common meeting-places. The etched graffiti, ancient forms of social networking. The amphitheater where gladiators fought and died.
And looming above it all, Mount Vesuvius, still active and trembling to this day,
The Pompeii ruins are an entire city, excavated and preserved in the Campania region of Italy. Buried by the volcanic eruption in 79 AD, it lay covered for over 1,600 years. In 1748, the first big excavations began. But of the settlement's 66 hectares, only 44 have been revealed.
The best time to see and experience the ruins of Pompeii is at 8:30 in the morning. Try to get there when its gates first open. You'll escape the crowds that tend to gather at midday, the tourists with selfie sticks and tour guides waving flags.
The early light also has a dramatic effect on the giant sculptures, buildings and crumbled stones.
In those early morning hours, you'll also escape the intense summer heat which pounds the city by 10am. The glory that was once Pompeii may be mostly in ruins, but from the stone ovens and common baths, the temples and gardens, you'll get a sense of life that once was.
Pompeii was one of the places in Italy I've always wanted to see. It was with awe and reverence that I stood, sketched and tried to grasp the reality of this place.
My children skipped between the giant stones which create passageways and bridges between the streets. They explored the mazes of houses, aware that in the background, stood Vesuvius. That powerful, destructive volcano.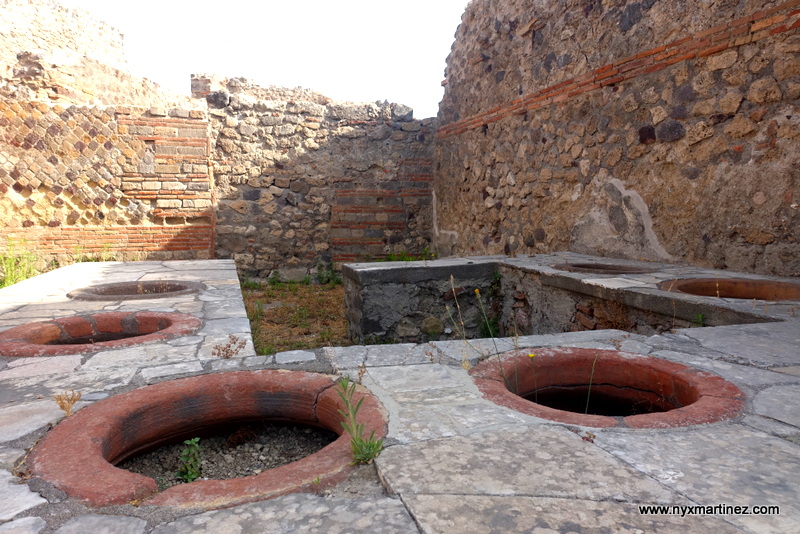 From Pompeii, we continued along the Bay of Naples. Our next stop was the Archaeological Museum of Naples, following the buried city's treasures.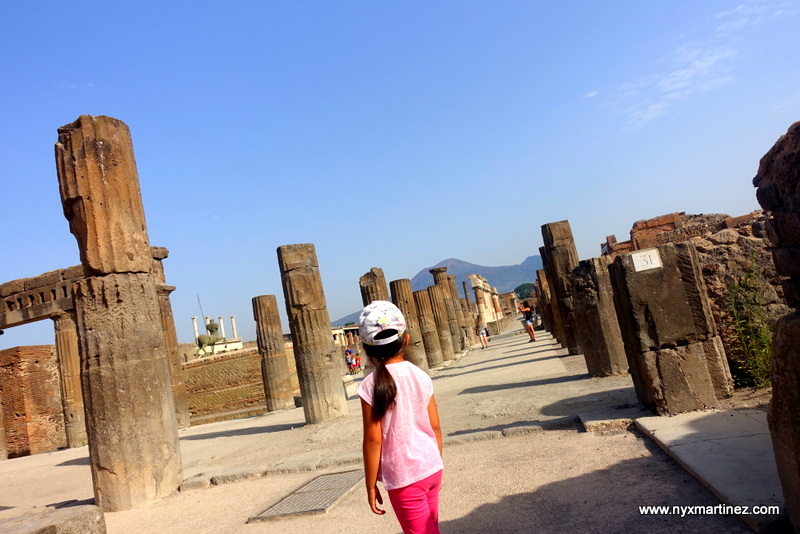 Things to know before you go:
Wear good walking shoes. Luckily, I'd picked up a super comfy pair of Flexx sandals in Rome the day before. What a good investment!
There is one cafeteria onsite, but you can save by bringing bottled water on your walk.
Go early. In Summer, the sun is very hot already by 10am.
Lucia is a professional tour guide, who gave me some great tips via phone the night before. If you book a tour, expect 2-3 hours tour. The city is huge, and we only got to see a fourth of it.
Bring an ID—passport or driver's license. You will be required to deposit your ID in exchange for an audio guide.
Where to Stay: We booked "Apartment Pompei Wellness", just walking distance from the city ruins. They have a gym, modern amenities, and a terrace. (Viale Giuseppe Mazzini, 108)
…Next stop, Naples!