The bathhouses of the Ancient Roman civilization were both for pampering and social purposes. Thermal waters flowed directly from hot springs and in some cases, from volcanic rock. In those days, bathing was an important one in many social circles. Not limited to only males, females also frequented these cultural centers.
Although most of those baths now lay in ruins, we know from archaeological findings and the literature that survived how beautiful the bath structures were–inlaid with marble and designed with large mosaics.
Today, there are countless outdoor natural hot springs to visit in Italy, where you can dip in refreshing water for free. Plus many thermal indoor pools created for leisure and family fun–like the Bormio Terme we visited last week.
When you're a mom, it's hard to get away for self-pampering. Vacations usually mean taking the kids along, so it's a jewel to find a place where both parents and kids can feel relaxed together.
Bormio, with its thermal waters flowing down from the hot Cinglaccia spring, is a small commune in Lombardy, Northern Italy. This charming spa town lies within reach of the Alpine ski slopes. So its baths are perfect to unwind after a day of hiking, skiing or biking the winding mountain trails.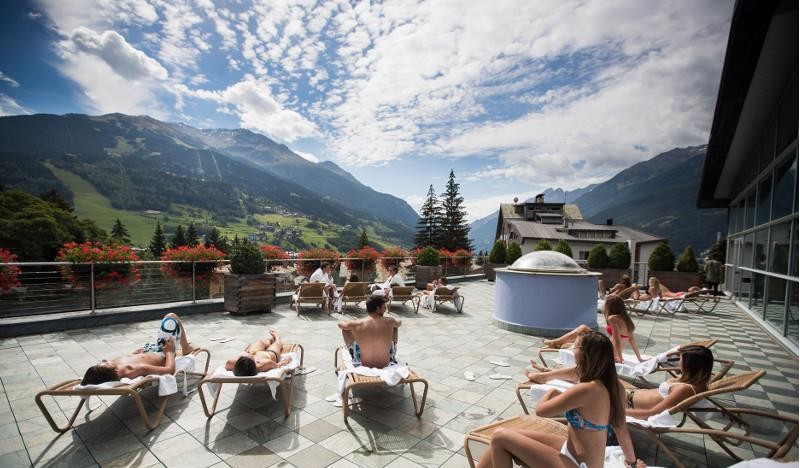 The Bormio Terme has a cluster of pools with both indoor and outdoor zones, a Thermarium and Spa. At a warm 30-40 degrees centigrade, they are full of healthy minerals—bicarbonate alkaline, mineral sulphate, and other healing properties. It was the perfect place to spend the day with little ones.
Big bonus? No entry charge for kids below six years old!
Our favorite pool was the Quattro Stagioni (Four Seasons) pool in the outside zone. My new definition of bliss? Bubbly hydro jet massages in warm water while gazing directly at snow-capped mountain peaks. Out in nature, feeling cool winter air on our face, yet the warmth of a heated bath soothing our bodies…I couldn't think of a more idyllic way to soak up the early November sun.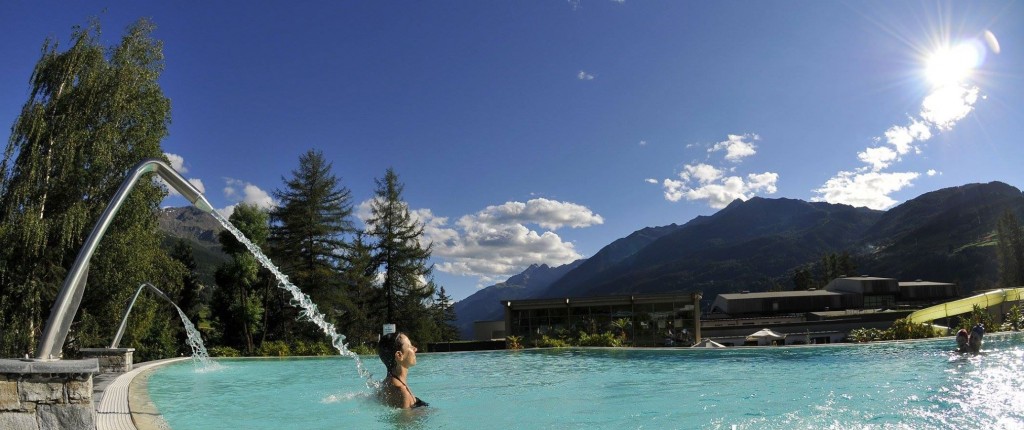 Address:
Via Stelvio, 14 – 23032 Bormio (SO)
Tel.: +(39) 0342 901325
Fax: +(39) 0342 905220
Travel Tips:
Inside the Bormio Terme, it is mandatory for kids under 2 years old to wear diapers and plastic underpants.
Also mandatory: swimming caps (for both males and females), towels, and slippers.
There is an on-site store to purchase everything you need but forgot to bring, plus gift items like bath salts and mineral cosmetics from Bormio—even water-proof makeup.
Hungry after a long day of swimming? Dine at the Keller Steakhouse. A family business operated by the Martinelli family, it is literally down in a keller (cellar), where you'll find cozily lit yet spacious seating. Family friendly ambiance with a good wine and beer selection.
Address: Via Funivie, 39
23032 BORMIO (SO)
Mobile: +39 331 2447555
Email: info@kellersteakhouse.it
(Closed on Tuesdays)